Hanford Employee Donations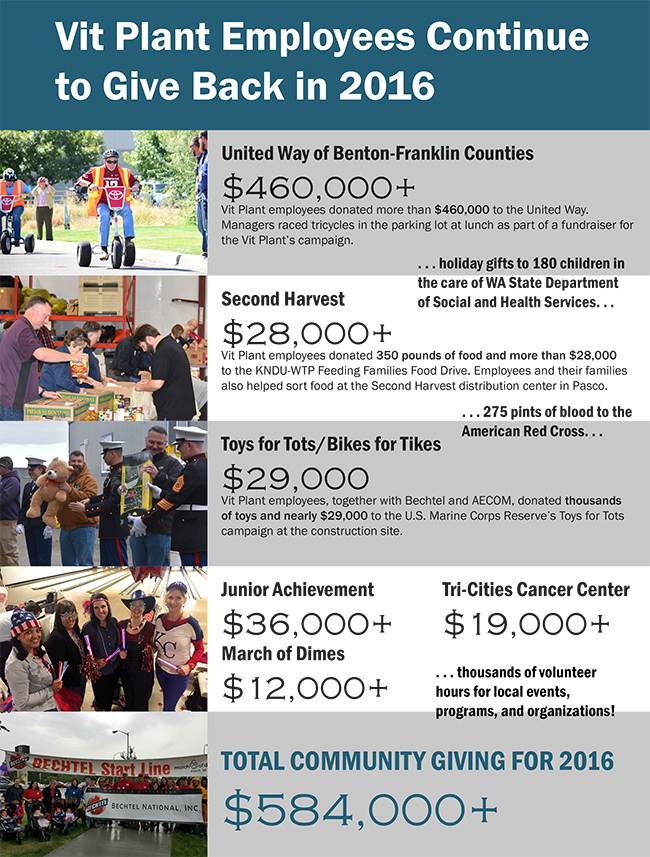 PDF version
Vit Plant Employees Continue to Give Back in 2016
United Way of Benton-Franklin Counties: $460,000+
Vit Plant employees donated more than $460,000 to the United Way. Managers raced tricycles in the parking lot at lunch as part of a fundraiser for the Vit Plant's campaign.
. . . holiday gifts to 180 children in the care of WA State Department of Social and Health Services. . .
Second Harvest: $28,000+
Vit Plant employees donated 350 pounds of food and more than $28,000 to the KNDU-WTP Feeding Families Food Drive. Employees and their families also helped sort food at the Second Harvest distribution center in Pasco.
. . . 275 pints of blood to the American Red Cross. . .
Toys for Tots/Bikes for Tikes: $29,000
Vit Plant employees, together with Bechtel and AECOM, donated thousands of toys and nearly $29,000 to the U.S. Marine Corps Reserve's Toys for Tots campaign at the construction site.
Junior Achievement: $36,000+
March of Dimes: $12,000+
Tri-Cities Cancer Center: $19,000+
. . . thousands of volunteer hours for local events, programs, and organizations!
TOTAL COMMUNITY GIVING FOR 2016: $584,000+
View additional displays in this section:
Return to virtual open house home