The Vit Plant's Balance of Facilities (BOF) is made up of 14 buildings and 53 systems, plus interconnecting piping, electrical, and other utilities that provide support functions to the Low-Activity Waste (LAW), Effluent Management Facility, and Analytical Laboratory facilities.
The support utilities include systems for:
Electrical power distribution
Backup power
Compressed air
Steam
Chilled, process, potable, and fire water
Communication and control
Construction of the BOF facilities and systems is well advanced and some have already entered the startup and commissioning phases. The "cascaded" schedule of turnovers began in 2015 and will lead each facility and system to being ultimately turned over for operations.
To begin tank waste processing and glass production as soon as practicable, Vit Plant system changes have been designed to temporarily bypass the PT and HLW facilities. In this approach, the most mobile low-activity waste will be routed from Hanford's tank farms to the LAW Facility. This overall system alteration is called the Direct-Feed Low-Activity Waste program, or DFLAW. To support DFLAW, certain BOF systems will undergo adjustments to scale them down to levels appropriate to the program's lower operational demands, compared to capacities that will be needed during full plant operations. For example, the steam plant will use fewer boilers to support DFLAW, resulting in energy and cost efficiencies. 
BOF Fast Facts
Once completed and fully operational, the Vit Plant's BOF will provide:
A chilled water system that could cool 23,500 houses
An electrical power distribution that could power 2,250 houses
A compressed air system that could fill the Goodyear blimp in three minutes
A fuel oil storage that could fill the gas tanks of 11,500 cars
A steam plant that could heat 3,300 houses
---
Effluent Management Facility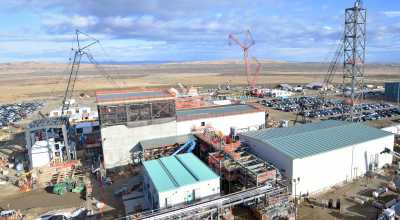 During DFLAW vitrification, secondary liquid, called effluent, is generated from the melter off-gas system and when transfer pipes are flushed. These liquids go to the Effluent Management Facility processing building, where excess water is evaporated and transferred to Hanford's nearby Liquid Effluent Retention Facility, and the remaining concentrate is sent back into the vitrification process.
EMF contains three structures: a main processing building, an electrical powerhouse, and a utility systems building.
With the Effluent Management Facility's recent transition to the commissioning phase, we wanted to share a video highlighting the progress and hard work that allowed the Vit Plant team to reach this milestone: 
---