WTP Analytical Laboratory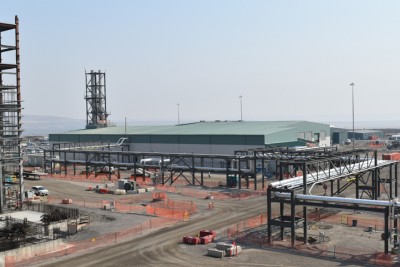 The Analytical Laboratory, also known as the Lab, will serve as a process link between the Pretreatment, High-Level Waste Vitrification and Low-Activity Waste Vitrification facilities. The Lab is 320 feet long and 180 feet wide, approximately the size of a football field, and 45 feet, or four stories, high.
The laboratory's key function is to ensure that all glass produced by the Low-Activity Vitrification Facility meets all regulatory requirements and standards. During direct-feed low-activity waste operations, technicians in the laboratory will analyze approximately 3,000 process waste samples each year.
Analyses will confirm the correct glass-former "recipe" needed to produce a consistent glass form. Samples will also be taken throughout the vitrification process to confirm a high-quality glass product and good process controls.
CONSTRUCTION FACTS
Size: 320 feet by 180 feet by 45 feet tall
Concrete: 12,000 cubic yards
Structural steel: 1,800 tons
Heating and ventilation ductwork: 314,500 pounds
Piping: 35,000 feet
Electrical cable: 172,000 feet
Back to Hanford WTP Overview.
A Closer Look Inside the Analytical Laboratory
ENVIRONMENTAL EMISSIONS STACK ASSEMBLY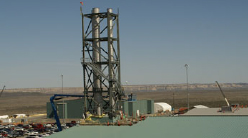 The 68-foot stack assembly will exhaust emissions from the Analytical Lab's ventilation systems, filtering radioactive and chemical contaminants from the air to ensure it meets strict regulations. Made of structural steel, the assembly contains three emission stacks and weighs approximately 140,000 pounds. The assembly sits atop the Analytical Lab, making it more than 119 feet tall.
DRAIN COLLECTION VESSELS CELL AND FIRE WATER VAULT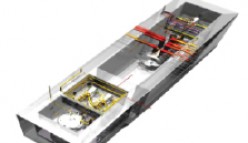 The floor and sink drain collection vessel also collects water overflow in the event of a fire. The area includes radioactive liquid discharge pumps, ventilation systems and specialized exhaust systems to prevent potential cross contamination among areas.
ABOVE GROUND AND EMBEDDED FOUNDATION PIPING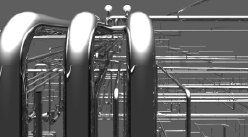 The Analytical Laboratory contains piping for drainage and waste transfer. Piping may be above ground; within underground cells and vaults; or embedded in the thick concrete foundation. All process piping is nuclear-grade stainless steel or Hastelloy and is installed to exacting specifications using the most advanced welding and installation techniques.