Industrial Safety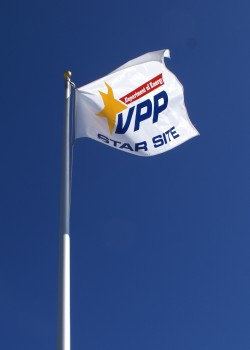 Bechtel and principal subcontractor AECOM are industry leaders in industrial safety performance and are committed to achieving zero lost-time incidents. Our zero accidents philosophy has enabled the Vit Plant project to become the safest large construction project within the U.S. Department of Energy (DOE) complex.
We believe that every accident and injury, is preventable. We embed that philosophy by engaging and educating our employees, subcontractors, and vendors to adopt our commitment to safety and health. The result is exceptional safety performance.
The Vit Plant construction site earned DOE Voluntary Protection Program Star Status for safety excellence in 2010 and was recertified in 2013. 
In both 2014 and 2015 the project received the Department of Energy's Voluntary Protection Program (DOE-VPP) Star of Excellence award for its safety statistics and mentoring efforts. The Star of Excellence award is given to a site that achieves a total recordable case rate (TRC) at least 75 percent below the Bureau of Labor Statistics (BLS) national average for its industry. A site also must meet annual DOE-VPP goals and show strong involvement in mentoring and outreach.
The Star of Excellence is the highest category of the DOE-VPP annual achievement awards, and earning the award in consecutive years highlights the fact the WTP recorded a lower TRC for the fourth-consecutive year.  
Education and Programs
The Vit Plant excels in safety performance because we actively engage our management and employees in safety programs, educate our workforce about safety requirements and expectations, and continuously evolve our safety culture. We employ a number of innovative safety programs designed to educate, engage, and empower our employees. The following are just a few examples:
Craft Safety Watch
The Craft Safety Watch is our people-based safety program. It is a management-sponsored, craft-led committee focused on reducing at-risk behaviors that can lead to injuries and illnesses. This program engages craft employees in creating a safe work environment through behavioral observations, education, and increased awareness.
Craft Safety Representatives
The Craft Safety Representatives (CSR) program is composed of craft journeymen. The CSRs provide a craft perspective when evaluating safety processes and during work-planning activities. They serve as a conduit between employees and management, fostering open communication regarding safety improvements.
Accident Prevention Council
The Accident Prevention Council (APC) is composed of office representatives from key organizational functions and each floor of project office buildings. Its purpose is to facilitate continuous improvement of workplace safety and to promote accident prevention through increased awareness and broad-based participation by Vit Plant office employees.
Supervisor Safety Watch
The Supervisory Safety Watch engages senior project managers at the work site. Several days a week, a manager observes work activities according to a prescribed checklist, ensuring work is performed safely and that safety requirements are met. Constructive, positive feedback is provided to employees immediately. Observations are discussed with construction management. Observed employees are also encouraged to ask questions, raise concerns, and provide feedback to managers regarding workplace safety.
Supervisor Safety Committee
The Supervisor Safety Committee is designed to further engage middle management in safety at the construction site. Committee membership consists of foremen, general foremen, and superintendents. The group's primary focus is to provide mentoring and teaching opportunities for developing safety leadership skills in supervisors.
It's OK Initiative
The It's OK initiative is a behavior-based safety program that complements existing and fully operational programs. It's OK is led by the Supervisor Safety Committee. The focus of the program is for employees to say: "It's OK for you to observe me while performing work and to advise me on a safer way." The program also includes an element of supervisors mentoring supervisors in work planning and in conducting more effective Safety Task Analysis Risk Reduction Talk (STARRT) Card meetings.
Read about our Nuclear Safety Rules here.
Learn more about the Hanford Site overview.
Awards
2015 Voluntary Protection Program Star of Excellence
U.S. Department of Energy
2014 Voluntary Protection Program Star of Excellence
U.S. Department of Energy
2013 Voluntary Protection Program Outreach Award
U.S. Department of Energy
2013 Voluntary Protection Program Star Status (recertification)
U.S. Department of Energy
2012 Safe-in-Sound Award
National Institute for Occupational Safety and Health and the National Hearing Conservation Association
2012 Voluntary Protection Program Superior Star Status
U.S. Department of Energy
2011 Voluntary Protection Program Superior Star Status
U.S. Department of Energy
2011 President's Award (URS)
URS Energy & Construction
2010 Voluntary Protection Program Star Status (certification)
U.S. Department of Energy
2010 President's Award (URS)
URS Energy & Construction
2009 Construction Team of the Year – Large Projects (Bechtel)
Bechtel Construction
2009 President's Award (URS)
URS Energy & Construction
2008 Voluntary Protection Program Merit Status
U.S. Department of Energy
2008 Voluntary Protection Program Star Status (Intermech, subcontractor)
U.S. Department of Energy
2003 Construction Team of the Year – Direct-Hire Category (Bechtel)
Bechtel Construction
2003 President's Award (URS)
URS Energy & Construction