Protecting the Columbia River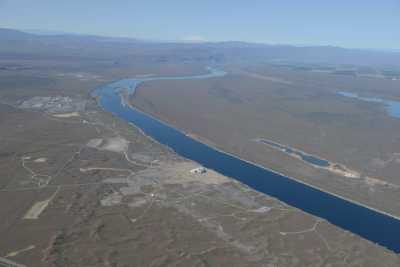 The Columbia River has played a significant role in United States history.
In January 1943, with the nation locked in war with Germany and Japan, the U.S. Army came to Hanford looking for an isolated area for the top-secret Manhattan Project, the effort to build an atomic bomb. With the Columbia River providing the water to cool plutonium-producing nuclear reactors and Grand Coulee Dam supplying the electricity to power processing plants, Hanford was the ideal location.
The Risk is in the Tanks
Today, there are 177 underground tanks at Hanford containing 56 million gallons of radioactive and chemical wastes created by plutonium production during World War II until the end of the Cold War. Most of Hanford's underground waste tanks – 149 of them – are single-shell tanks. The tanks are decades beyond their design life, and nearly half of the single-shell tanks have leaked a combined million gallons of hazardous, radioactive liquid into the soil. Some of this waste has reached groundwater, threatening the river.
Reducing the Risk
Protecting the Columbia River and the public from that waste is the most important task at the Hanford Vit Plant. The waste poses a risk of leaking the longer it remains in the tanks. The Vit Plant is designed to take the waste from the tanks and turn it into a stable glass form suitable for long-term storage. In glass form, the tank waste is no longer a threat to the environment. Visit Vitrification 101 for more information on this process.
The Columbia River is the Lifeblood of the Pacific Northwest
Flows more than 1,200 miles from its source in British Columbia, Canada, to the Pacific Ocean on the Oregon-Washington state border.
Second largest river in the U.S. in water volume behind the Mississippi River.
Watershed covers an area of more than 260,000 square miles, reaching parts of seven states and British Columbia, Canada.
Home to 14 hydropower dams that produce 44 percent of the U.S.'s total hydropower generation.
Hosts many fish species, including 13 designated threatened or endangered species.
Gateway for agricultural shipping, ranking #1 in U.S. wheat exports and #2 in U.S. soy exports. In 2016, 49% of U.S. wheat exports traveled down the Columbia River.
Flows past high-population centers, such as Tri-Cities, Wash., and Portland, Oregon.
Other info:
The Hanford Reach, the last free-flowing stretch of the Columbia River remaining in the U.S., looks much the same as it did nearly 200 years ago. This 50-mile stretch of the Columbia is a natural wonder and is designated a National Monument.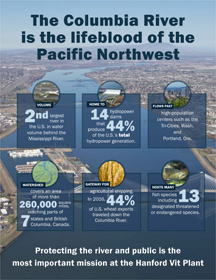 Learn about the importance of the Columbia River with this printable infographic