29
March
2017
|
08:14 AM
America/Los_Angeles
Vit Plant achieves first contract milestone of 2017
Summary
Bechtel achieved its first contract milestone of 2017 when employees completed installation of the caustic scrubber, a 19-ton piece of vitrification melter offgas exhaust equipment, in the LAW Facility.
RICHLAND, Wash. – Bechtel National Inc. (BNI) achieved its first contract milestone of 2017 when employees completed installation of the caustic scrubber, a 19-ton piece of vitrification melter offgas exhaust equipment, in the Low-Activity Waste (LAW) Facility earlier this month at the Hanford Waste Treatment and Immobilization Plant (WTP), also known as the Vit Plant.
The caustic scrubber was the final piece of a system that will treat LAW Facility exhaust to ensure it meets air quality requirements. With the caustic scrubber's installation, work crews can now complete the subsequent work of installing the remainder of plant items and equipment in the LAW Facility.
"Not just meeting – but in fact beating – our first contract milestone of the year is an example of our commitment to ensuring we are ready to receive low-activity waste for vitrification as soon as 2022," said Peggy McCullough, BNI project director for the WTP Project.
Three interim contract milestones remain to meet the LAW Facility construction completion contract milestone: completing assembly of both 300-ton melters and the installation of bulk electrical cable remaining near the offgas equipment. BNI is on schedule to meet those interim contract milestones in first quarter of 2018. A multi-year startup, testing and commissioning process will follow. The LAW Facility will produce about 30 tons of vitrified glass a day when fully operational.
"It is very rewarding to see the continued progress we are making toward completing the LAW Facility construction," said Bill Hamel, WTP Federal Project Director for the Department of Energy Office of River Protection.
Other components of the LAW Facility offgas treatment system, including the thermal catalytic oxidizer and ammonia dilution skid, can be seen in the Vit Plant Virtual Tour.
BNI holds the prime contract to design, construct, start up and commission the Vit Plant, which includes the LAW Facility, an Analytical Laboratory, the High-Level Waste (HLW) Facility, the Pretreatment (PT) Facility and a collection of more than 20 support facilities. The LAW Facility, Analytical Laboratory and set of support facilities are part of DOE's Direct Feed Low-Activity Waste System to treat low-activity tank waste ahead of full WTP commissioning, taking advantage of those facilities that are close to completion while allowing design and construction to continue on those facilities that are still working through technical issues. Civil construction continues on the HLW Facility while significant progress was made recently in resolving technical challenges associated with the PT Facility.
###
About the Office of River Protection
The U.S. Department of Energy's (DOE) Hanford Site in southeast Washington State is home to 56 million gallons of chemical and radioactive waste stored in underground tanks -- the result of more than four decades of plutonium production. The Office of River Protection (ORP) is responsible for the retrieval, treatment, and disposal of this waste in a safe, efficient manner. The River Protection Project is the largest and most complex environmental remediation project in the nation.
About Bechtel
Bechtel is one of the most respected global engineering, construction, and project management companies. Together with our customers, we deliver landmark projects that foster long-term progress and economic growth. Since 1898, we've completed more than 25,000 extraordinary projects across 160 countries on all seven continents. We operate through four global businesses: Infrastructure; Nuclear, Security & Environmental; Oil, Gas & Chemicals; and Mining & Metals. Our company and our culture are built on more than a century of leadership and a relentless adherence to our values, the core of which are safety, quality, ethics, and integrity. These values are what we believe, what we expect, what we deliver, and what we live. www.bechtel.com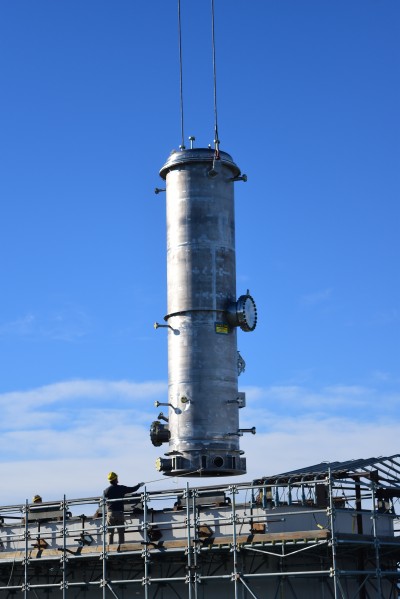 The caustic scrubber is nearly 30 feet tall, 6 feet in diameter and weighs 14 tons. Once all the internal components are installed, it will weigh 19 tons. It is one of three major components that make up the offgas treatment system.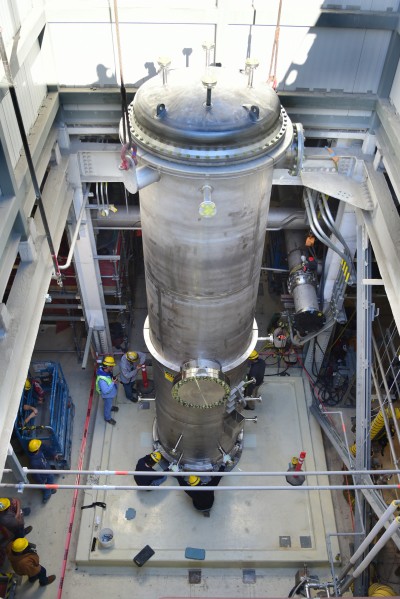 The caustic scrubber was lowered into the LAW Facility by crane through a roof hatch. Vit Plant employees hand-maneuvered the unit into position as the crane operator lowered it from outside the facility.