Waste Treatment Infographics
Infographics help tell the Hanford Vit Plant's story in an engaging and dynamic way. Click a thumbnail below to view the infographics produced about the Vit Plant.
Completing the Mission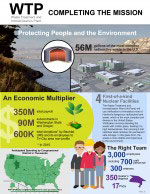 With nearly 3,000 employees, the Hanford Vit Plant is one of the top employers in the Tri-Cities and boasts an annual payroll of roughly $350 million. The Vit Plant is making a significant impact on the region now as it works toward completing its mission of protecting the region in the future.
Click the thumbnail to see the employment and economic contributions of the Vit Plant.
Printable Completing the Mission Infographic
Fast Facts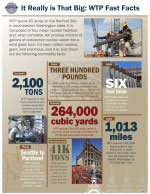 WTP spans 65 acres on the Hanford Site in southeastern Washington state. It is composed of four major nuclear facilities and, when complete, will process millions of gallons of radioactive nuclear waste into a solid glass form. It's been called massive, giant, and enormous, and it is.
Click the thumbnail to check out the commodity facts.